Powerful software to gain instant access to real-time client information
Say goodbye to spreadsheets, shoe boxes of receipts, and endless emails managing individual clients' tax positions throughout the year. Embrace a revolutionary approach to client collaboration, optimising firm efficiencies, and delivering hassle-free tax time with unparalleled peace of mind. And the best part? It's completely FREE for firms.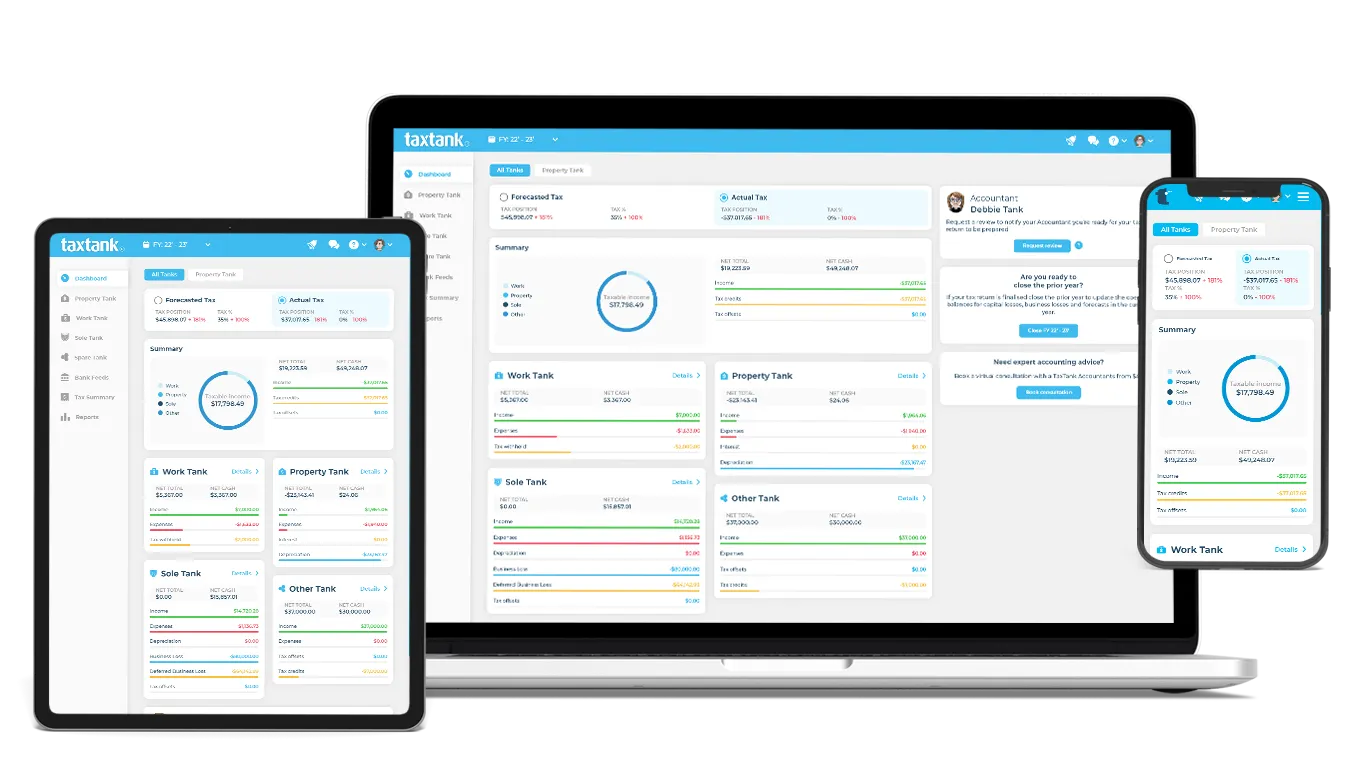 Smart tax tools for maximising deductions and ensuring ATO compliance
No more manual calculations or worrying about missed deductions! TaxTank offers live bank feeds, permanent document storage, auto calculators, and smart tax tools to ensure your clients gain complete oversight of their investments and maximise deductions whilst improving data integrity. You can rest easy knowing that your clients are protected from ATO scrutiny and unnecessary audit adjustments year after year.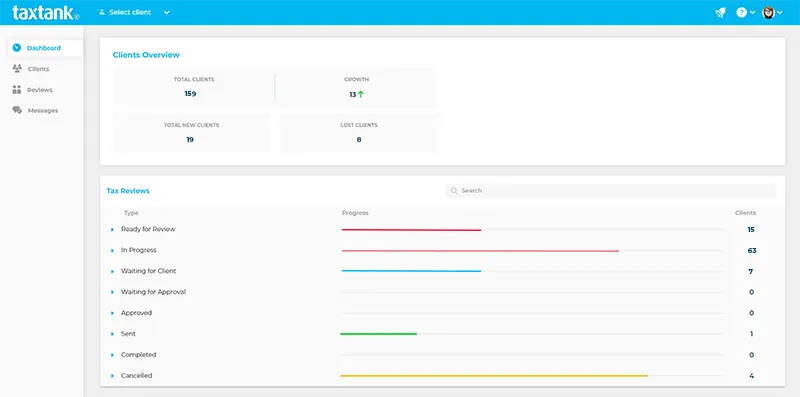 The benefits of using TaxTank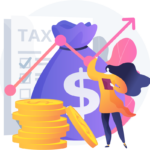 Access Real-Time Information
Collaborate with clients like never before to improve efficiency and fight back against ATO automation.  Get instant access to live tax, cash & equity positions as well as property schedules, tax reports, including rental returns & LVR to do away with manual forms and cumbersome spreadsheets.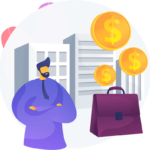 Make your services an ongoing source of valuable information to retain and grow your individual client base. You can monitor your clients' position throughout the year and easily give advice when needed to proactively help them plan and make better decisions for their financial future.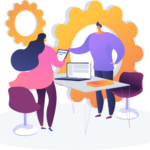 Build Confidence and Trust
Built by an accountant, and underpinned by Australian tax law, TaxTank automatically calculates your clients tax position in real-time. Better still, using live bank feeds to improve data integrity and streamline compliance, you can be confident your clients are accurately claiming every possible deduction.
A unified solution for all income types and asset classes
TaxTank is not just another software, it's the all-in-one solution that seamlessly covers all income types and asset classes from just $6 per month. 
From property investors to sole trader business schedules, work related expenses, shares and cryptocurrencies, TaxTank offers flexible subscriptions around all areas of the individual tax return. 
No need to switch between multiple platforms or complicate your workflow. Our seamless integration allows you to handle all aspects of your clients tax efficiently.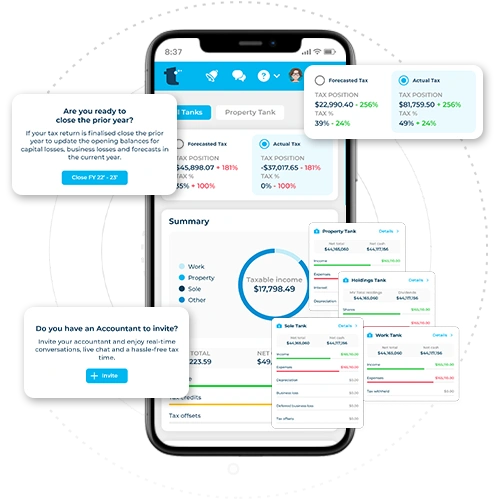 There are multiple tanks that act like digital containers to organise the different incomes, expenses, properties and investments whilst securely storing receipts and documents year after year to protect against audit from the ATO.
When your clients allocate income and expense items, they're managing their tax and you can see their adjusting tax position in real time.
Manage your clients' work income and expenses, updated via live bank feeds. Keep receipts safe by attaching them to transactions, maximising tax deductions and safeguarding against audit issues.
Manage your clients' property portfolios and use smart tax tools to ensure no opportunity is missed. Easily see each property's debt, equity and cash position, and simply manage income from sites like Airbnb and Stayz.
Manage your clients' sole trader income seamlessly with auto invoicing, business reporting, including unpaid invoices, BAS, roll forward losses, & automated smart tools to let your clients know how much tax they'll have to pay.
Manage your clients stocks, shares and cryptocurrencies so you can track their portfolio value in real time and calculate any Capital Gains or losses automatically. Plus our tax reports are free with no limits on the amount you track.
Store documents securely in one place, including employment contracts, insurance policies and receipts. You can rest easy knowing your clients' information is safe and quickly access documents when you need them.
Empower individuals & fight back against ATO automation
By incorporating TaxTank into your accounting firm's services, you demonstrate your commitment to empowering your clients whilst fighting back against growing ATO automation. 
TaxTank equips you with the tools needed to elevate your client knowledge, increase firm efficiencies and deliver comprehensive tax support whilst reducing the cost of compliance and managing client expectations. The accountants dashboard automates the review process to deliver a seamless experience for individual clients at tax time.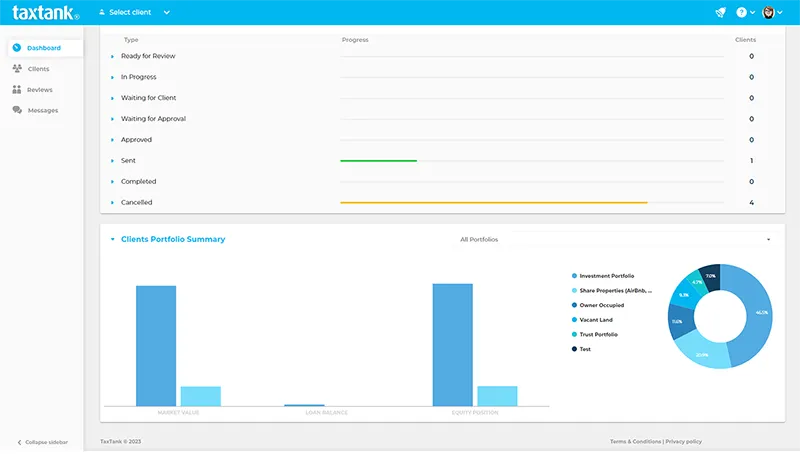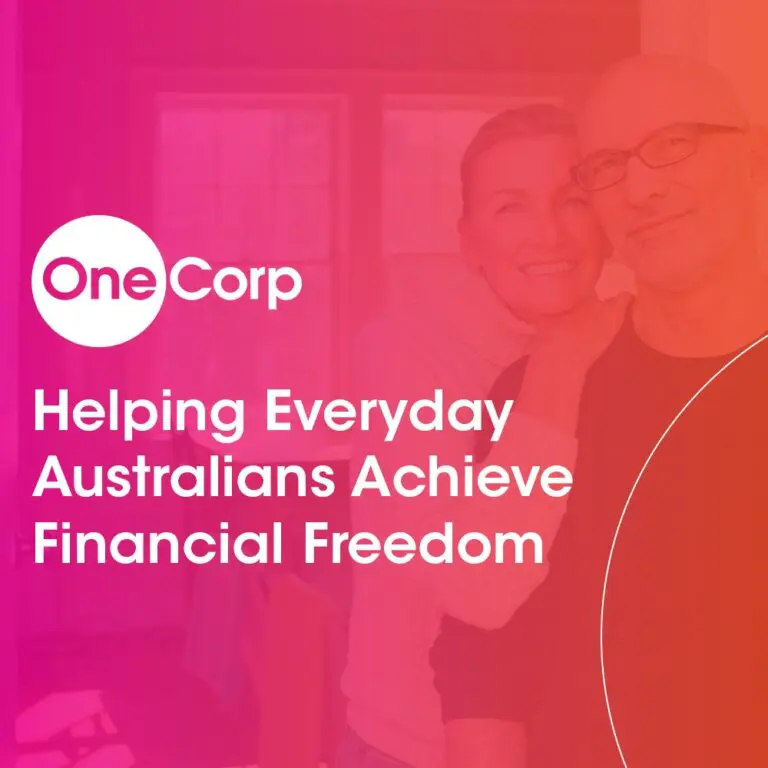 We employed TaxTank's incredible software as an optional add on for our clients, and it has quickly become an indispensable tool for our company. Not only do we have a far better understanding of property-related tax affairs, but we can now empower our clients to take control of their own tax affairs with our assistance.
TaxTank's user interface is intuitive, easy to navigate and is categorised by 3 main 'tanks', making it effortless for clients to input, track and manage their tax information and view their tax position year-round. The platform offers a wide range of features that allow clients to track expenses, income, depreciation and equity to name a few. Using PAYG and rental income, any deductions and depreciation, the program automatically calculates an incredibly accurate real time tax projection. Not only is the platform easy to navigate, but our clients also have access to a self-service help centre, free tax tools and extensive webinars to support their tax management journey.
Underpinned by Australian tax legislation, TaxTank has assisted our clients in maximising tax deductions and minimising tax paid. Legally, of course! What we love most about TaxTank is the advocacy for and empowerment of Australian taxpayers – this tool is priceless in the fact it guides users to claiming their fair share every financial year.
Mitch Cator & Holly Macdonald
Join the TaxTank community today!
Take your accounting firm's services to the next level with TaxTank. Elevate your client experience, optimise workflow, and offer the peace of mind clients deserve. 
Be the trusted accounting partner, armed with the ultimate solution for comprehensive accounting support.